BUDGET - Hotel Babaloo Inn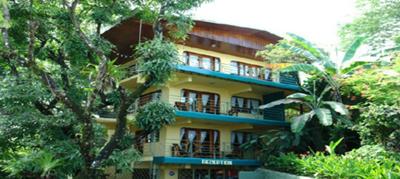 We're Nestled In The Jungle
Welcome to the Hotel Babaloo Inn, where luxury meets the jungle.

You will find us perched high upon a hill overlooking the crystal clear blue waters of the Pacific Ocean, centrally located on the main road between Manuel Antonio and Quepos, on Costa Rica's Central Pacific coast.

Nestled into the rainforest, with a variety of accommodations to suit your needs, we are your new home away from home while visiting Central America. In fact, many of the animals indigenous to Manuel Antonio area also call Babaloo Inn home.

Don't be surprised if you look out one morning, and Sandy the Sloth is hanging upside down in the trees just beyond your room. The adorable Titi (squirrel) and White faced monkeys are also frequent visitors. And then there is Congo, often heard in a deep HOOP, HOOP, HOOP voice, who is our resident Howler monkey.

The American owners, which live right on the property and their gracious Tico staff really believe that "You work hard for your vacation, you deserve to be spoiled" and put that philosophy to practice in the smallest of detail.


Hotel Babaloo Inn Rooms Descriptions

Here at the Hotel Babaloo Inn Manuel Antonio, we have 4 types of rooms for your comfort and enjoyment. Within these 4 types of rooms, we can accommodate groups of different sizes in their sleeping configurations for added flexibility.

Ocean View King Suites (3)
Beautifully appointed ocean view suites that include a King Size Bed, Sitting Area, full Kitchen and private balcony with rocking chairs. These rooms can comfortably accommodate two additional twin sizes beds, which make them ideal for a family of 4.

Garden Queens (2)
Our Garden Queens have a single queen size bed with the jungle view balcony extending off the rear of the building. A crib can be placed in these rooms, but there is not enough room for a roll-away bed. This room is designed for couples or a family with an infant.

Garden Doubles (2)
These garden rooms have a full size bed and a twin size bed. These rooms have a balcony that extends off the end of the building. This is an ideal room for two friends traveling together that do not want to share a bed or a family with one child. A crib could be placed in this room, but there is not enough room for a roll-away.

Garden Doubles with Trundle Bed (2)
These rooms are the same as the regular garden double, but there is a hidden trundle bed that is under the twin bed. This bed can be pulled out at night for sleeping and then returned in the morning for extra room. The balconies here extend off the ends of the building. This is an ideal room for families that have two children that want their own bed, or a group of three that request the same. There is no additional space in this room, with the trundle out for a crib or a roll-away.

All our Rooms Provide:

Individual Climate Controlled Air Conditioning
Ceiling Fans
Hot Water
Color Cable Television
Locally grown Costa Rica coffee service
Free WiFi
Upgraded Linens
Beach/Pool Towels
Daily Maid Service
Concierge Service
Night Security Guard
Lush Gardens in Co-existence with the environment of Costa Rica
Free phone calls to U.S. and Canada
Bus stop & taxi line only 25 meters from Hotel Babaloo Inn
3 Minute ride to Manuel Antonio National Park
Across the street from the famous landmark Mar Luna Restaurant with great sunset views


If you are looking for a place to relax and enjoy this little piece of paradise called Costa Rica, then look no further!,
You have found it at the Hotel Babaloo Inn.


BabalooInn.com