Quepos And Manuel Antonio Weather
The Quepos and Manuel Antonio weather, experienced by me for more than a decade, changes somewhat from year to year. Many tourists have planned their vacations here around the generally accepted seasons.
Some have been disappointed by unexpectedly rainy weather during part of their trip, while others have been surprised to encounter favorable weather when they didn't expect it.
To me, nothing seems more clean, refreshing, and natural than rain in the rainforest...except when we didn't see the sun for an entire October seven years ago. September - November are, typically, the rainiest period, but the rain can last through to January as it did this year.
It's still the general case that Quepos and Manuel Antonio weather, from January thru April, generally consists of sunny, hot, humid days and warm muggy nights. Although this year the rainy season began a month early, and there seemed to be more rain than usual this past dry season.
And you can expect rain for a few hours each day, May thru December, though there may be a month or two during the summer when rain seems to let up a bit. The daily rain doesn't mean that there isn't sufficient sunshine for a few hours at the beach.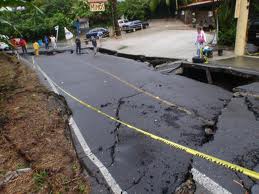 However, I should note that last year was the rainiest year ON RECORD including a deluge of nearly 60 inches the first week of November. Check out the end result--a huge 8ft. sinkhole that led to a month-long disruption of the traffic flow on the main road to Manuel Antonio National Park. This seems to be in line with extremes of weather throughout the world. Armageddon?! Nah!

The biggest plus for vacationing here during the rainy months is the much cooler evenings, especially after a late afternoon rain. That and the even more lush than usual foliage. The plants and trees seem to explode with new growth from May-December.
Another major plus concerning Manuel Antonio weather during the rainy season is the increased chance of witnessing some of the most dramatic sunsets you will ever see in your life.
Of course there is always the likelihood of an afternoon shower with total cloud cover continuing through the time when the sun dips below the horizon. But if the sun isn't completely covered, find a good ocean view that allows you to witness an awe inspiring, dazzling display of light, color and cloud formation that you will never forget.
Especially if you have a camera ready to capture it for those moments during the rest of your life that call for a little
inspiration or contemplation.
The sheer variety of sunsets resulting from the rainy season cloud formations is mind boggling. And therein lies the difference compared to typical dry season sunsets which tend to be less dramatic and with only a clear sky as a backdrop.
Just be sure to wait and capture with your camera the transition of gradually intensifying colors after the sun is no longer visible. The rich, colorful hues then suddenly fade into the darkness of night, but you will have captured with your camera an utterly unique display of Nature's beauty.
Also, on those occasions when a drizzle is taking place while the sun is peeking through a different section of the sky, chances are a rainbow prism has formed. Just look around to find it.
Quepos and Manuel Antonio weather temperatures range from around 70-85F in the rainy season, and 75-90F during the dry season. Factor in the seemingly endless humidity which feels like 90-100% all year round for a heat index (RealFeel) above and beyond the actual temperature. Your skin will love it!


Today's Weather And Forecasts
(Two Different Professional Guesses)