Hotel Mono Azul / The Blue Monkey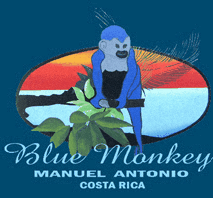 When it comes to eco-friendliness, Hotel Mono Azul, also known as The Blue Monkey, has been writing the book for years. In fact, they have taken it to a whole new level. Co-owners Chip Braman and Jennifer Rice are all about saving and preserving the inhabitants of the lush rainforest in and around Manuel Antonio, Costa Rica.
Jennifer, her daughter, Janine Lecare, and a friend co-founded Kids Saving The Rainforest when Janine was just 9 years old. The KSTR pledge remains the same:
We believe the rainforest is a storehouse of treasures.
We vow to do everything we can to save it. With the
vanishing rainforest goes the future of our planet.
We have to be the generation that makes
A DIFFERENCE.
Now 12 years, 100+ monkey bridges, 5,500+ reforested trees, a 4 acre animal rehabilitation center, and a wildlife sanctuary later, she and KIDS SAVING THE RAINFOREST are known and respected throughout the world. Janine was recently featured in a COCO ECO MAGAZINE article as one of the four "Women of the Forest" along with Brazilian supermodel Gisele Bundchen, actress Daryl Hannah, and Sting's wife, Trudie Styler.
When you think of The Blue Monkey, think of a large scale Bed and Breakfast where Chip and Jennifer create an atmosphere of downright "hominess", despite having 32 rooms, 3 pools, a small library, and a conference room for groups up to 50 people.
Also there to make you "feel at home" are friendly English speaking receptionists, Betty and Rosio. Likewise, the energetic wait staff of Melvin, Carmen, and Bizmark are eager to assist with your dining pleasure in the award winning Rainforest Restaurant And Bar.
All of whom have worked at The Blue Monkey for many years.
So have their cooks, Ana Maria, Mirella, and Rosio. As well as the housekeeping staff and head of maintenance! Not many hotels, anywhere, can make such a boast, but I know the reason for such loyalty--Chip and Jennifer have two of the biggest hearts I've ever known.
So if you're a budget minded traveler and like the idea of indirectly supporting endangered animals. And if a "home away from home" where "good karma" is on display appeals to you, and major kudos from Lonely Planet, Exploring Costa Rica, Costa Rica Handbook, and other travel guides are important to you...
...then Hotel Mono Azul may be just the place for you, your group, and your family!

Below a white-faced capuchin monkey, and a momma three-toed sloth providing a hammock for junior, stop by the hotel to say, "Thanks!"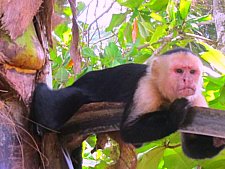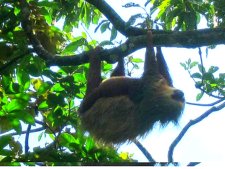 Click here to go to HotelMonoAzul.com

Click here to go from Hotel Mono Azul to Manuel Antonio Online Home