River Rafting - Iguana Tours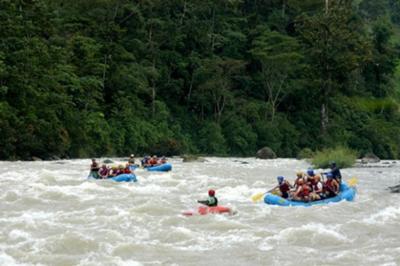 Naranjo Whitewater Rafting

For more experienced rafters, the Naranjo River runs from April to December and is a consistently adrenaline-pumping Class III and IV wild ride.

April - December

The wild and ever-changing Naranjo River White Water Rafting challenge is recommended for physically fit adventure seekers and experienced rafters who are familiar with Class III and IV rapids.

On this high-octane, half-day adventure, the trip begins when the Naranjo River drops steeply from the Costa Rican mountains and charges through pristine jungle gorges, then winds around rocky curves to take you on a wild, adventurous ride back to sea level waters. While your internationally-trained, bilingual guides and safety kayakers work with you to navigate this exciting river, you'll pass by (rapidly) stunning farmland, working cattle ranches, and beautiful African Palm Plantations.

Unlike the Savegre River Adventure, the Naranjo River Rafting Trip packs all its punches in a 7 mile ride that keeps your adrenaline level high for several hours. Water levels can rise rapidly on this Costa Rican river treasure, especially during the rainy season (May-October), which definitely brings the difficulty level up for any experienced rafter. After an adrenaline-kicking trip, enjoy local snacks and refreshments before heading back to reality, well, back to Manuel Antonio anyway. For another kicking experience, try our full day Savegre River Rafting adventure next!

If you become addicted to our ever-changing adventures out here, you just might have to come back.

Time:

Quepos / Manuel Antonio - 8:00 a.m. and 11:30 a.m.

Requirements:

We strongly recommend that adventurers (adults and children over age 10) be physically fit and prepared for Class IV rapids. Wear or bring water sandals or sturdy water shoes, a bathing suit, sunscreen, bug spray, a towel, and if possible a change of clothes.

Includes:

Round trip transportation, bilingual guides, safety kayakers, all equipment needed, security, snacks and drinks.

Tips:

Come prepared to have an adventure.

Be prepared to get wet.

Wear sturdy water shoes or sandals.

Leave your camera or valuables at your hotel or in the security van – you won't have time to take pictures.

Ask Iguana Tours to provide a photographer who can put your pictures on CD for you with added extras of our national treasure, Manuel Antonio.

Be surprised to learn a lot about Costa Rica's tropical flora and fauna.

Pick your river wisely – more Class IV action comes from the Naranjo and children might not enjoy that adventure just yet. If that is the case, you might want to consider the Savegre River Challenge (see below)– it comes with a hearty Tico style breakfast, snacks, and hot lunch.


Price:

Quepos / Manuel Antonio - US $65 (minimum 2 people)


MAO Discount Price: $55/person
Savegre Whitewater Rafting
Our more family-friendly Savegre River provides Class II, III and some rare IV rapids that are more than manageable. And of course you can expect that our internationally trained, bilingual guides and safety kayakers will expertly coach you through navigating either river.
All Year Long
This adventurous, family-friendly, full-day trip is a unique white water river rafting adventure with lots of "perks".
Of course you can expect, as the Manuel Antonio specialist, that our world-class, internationally-trained, bilingual guides and safety kayakers will expertly guide and teach you how to navigate through this exciting river experience. But you and your group of fellow rafters start slowly and build your way up to an unforgettable yet manageable adventure that will leave you either begging for more – so go on the Naranjo River high-octane trip next – or either leave completely satisfied and happy that you experienced one of Costa Rica's famous rivers, the Savegre.
Starting with a 4x4 ride into the "wilds" of Costa Rica's tropical jungle with breathtaking scenery of more remote areas of the Savegre, your journey begins at "Silencio". This is a little local village of thatched roof dwellings where you can enjoy a typical Tico breakfast after a "bumpy road" journey before you paddle down the Savegre.
Make sure you make your reservations for lunch, and don't forget to meander through the beautiful flora and fauna of the surrounding African Palm Plantations before you head off into the winding mountains to start the rafting leg of your journey.
The Savegre River provides Class II, III and some IV rapids that are manageable in sturdy rafts that accommodate 2 to 6 people comfortably. Our guides stop at locally known swimming spots and breathtaking waterfalls, if the rafters want a break from paddling, and there is always time to enjoy the abundant variety of wildlife along the river.
On most trips, rafters will observe egrets, osprey, toucans, parrots, kingfishers, cormorants, and many other species local to this protected area of the tropical rain forest.
After a steady 13 mile trip down the river, we wind our way back to the little village of "Silencio" where a gladly awaited hot lunch, "Tico Style", and local refreshments are waiting.
Once fed, happy and well-traveled, our now experienced Savegre River rafters spend a leisurely trip home driving back to Manuel Antonio to ponder continuing a rafting experience on the Naranjo River or to savor the experiences of day.
Time:
Quepos / Manuel Antonio - 8 AM - Full Day
Requirements:
Good for adults and children over 8 years of age who are relatively fit for paddling. Wear or bring sturdy sandals or water shoes, a bathing suit, sun block, bug spray, a towel, and, if possible, an extra change of clothes.
Includes:
Round trip transportation, a hot breakfast and lunch, bilingual guides, safety kayakers, all equipment needed, security, snacks and drinks.
Price:
Quepos / Manuel Antonio - US $95 (minimum 2 people)
MAO Discount Price: $85/person

Call 8832-4220
or
Send this Contact Form