La Posada Casa, Villa & Bungalows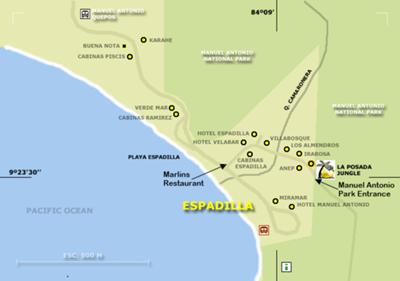 We're right next to the park entrance!
La Posada Casa, Villa & Bungalows
This is the place to be...

La Posada Casa & Jungle Bungalows is the only hotel in all of Manuel Antonio that immediately borders the naturalistic beauty of Manuel Antonio National Park, located at the park entrance and is only a two-block, three-minute walk to the most spectacular, vibrant and magical beach in all of Costa Rica - Manuel Antonio.

From your secluded, palm-thatched jungle bungalow or second story Casa porch at La Posada, nestled alongside the rainforest of Manuel Antonio Park, you can:

Begin each day with a full breakfast on our private porch, and be entertained by the acrobatic stunts of the titi or capuchino monkeys swinging from tree to tree.

Walk down an enchanted jungle lane, with surfboard in hand, to white sand beaches lined with coconut palms and almond trees, where hours will drift away while you bask in the sun, relax in the shade or play in the surf of the mighty, blue Pacific.

Easily access numerous beach & surf shops, and local street merchants, with an array of colorful, tropical handcrafted gifts and beach or surf attire.

Meet and be amused by our friendly and charming parrots, Mr. Macho and Ms. Pogan, but be careful what you say, they may just repeat it. We also get frequent visits from Bambi, a park deer that drops by for crackers and to pose for pictures.

Be invigorated by the refreshing, crystal clear waters of our swimming pool and jacuzzi that overlook our cultivated gardens and the adjoining jungle or go upstairs to our sundeck to work on your tan or enjoy an evening drink. .

Unwind in your hammock or rocking chair, and be seduced by the sweet fragrances of the natural, tropical flora that surrounds you.

Meander back to the beach late in the day to be entranced and awed by some of the most beautiful sunsets in the world, with your favorite tropical drink in-hand.

Stroll effortlessly to restaurants with assorted fares, and then later be amused and re-vitalized by live, local music or the energetic rhythms of Latin dance. Borrow a current movie to watch in your room from our extensive DVD collection.

Fall into a deep sleep each night, listening to the nearby, mesmerizing sounds of the jungle roght outside your door.

La Posada is in the land of pure life, "pura vida", where you will experience nature and life in its ultimate expressions, alive and exuberant in each detail, and where time slips away into all the tranquility and majesty that surrounds you.

This is truly paradise. After one day here, you will feel the difference in yourself, as relaxation, fun and the "pura vida" engulf you.


La Casa, Villa, Bungalows and Rooms

Our four, palm-thatched bungalows are tucked quietly away back in the gardens, but only a few steps away from the swimming pool and jacuzzi.

Each of the four, air conditioned bungalows has its own theme - The Jungle Room, Surfers Paradise, Fisherman's Dwarf, Parrots of Paradise - and is designed and decorated using lots of big, native bamboo, crafts and artwork.. The spacious interiors, each with their own roomy bath. The first 3 bungalows have a queen and double bed and the Parrots of Paradise has a king sized bed, as requested by many couples who have stayed here.

Your own private, furnished porch offers a great exterior area to hangout on and catch the warm breezes. We offer you that wonderful, summery feel of the tropics, without any of the discomforts of the tropics.

Each bungalow includes:

Air conditioning

A refrigerator

A microwave

Cable TV and DVD player

A coffee maker

Hot water showers

Hot water sinks

Armoirs

Security safe in each room.

A dresser and table and chairs

Private porches with hammock, two rocking chair and a table with 4 chairs

Queen and double pillow top beds or a king bed in the Parrots of Paradise room.


La Casa

If you need more room and luxury, enjoy our second floor 2 bedroom 2 bath house. This tastefully designed home includes a full kitchen with a screened porch overlooking the jungle and pool.

The master and second bedroom each have a queen bed, with 2 full sized sofa beds off the living room. Watch your 55 inch big screen TV or relax with a book out on the porch. This also includes a washer and dryer and of course, our delicious breakfast.

Rate is $225 per night with a $25 discount for 4 more nights.


La Villa

The Villa is 2 stories and has a large bedroom upstairs with a queen and double bed and adjacent screened porch. There is also a full bath upstairs. The living room has 2 full sized sofa futons and a full kitchen and a full bathroom. There are 2 TVs and DVD players and a patio outside with a hammock, table and chairs and rockers right next to the jungle.

Rate is $175 per night with a $15 discount for 4 or more nights.


The Monkey Room

This room is designed for families and has 14 foot ceilings, more room than the bungalows and has 3 beds-a queen, double and single bed that will sleep 5 people comfortably. The bathroom is large with shelves for storage and hot shower and the porch is private, 15 feet from the park border, with a table, chairs, rocking chair and hammock.


The Posada Room

The Posada room is designed for 1 or 2 people or a longer stay. It offers a queen bed, full kitchen, walkin closet and large bathroom with shelves and hot shower. There is a private sitting area with table, chairs and hammock. Please note that both of the new rooms have all the items listed for the bungalows above.


Services & Amenities

La Posada is American owned, but operated with friendly Costa Rican staff, who all desire to make your stay as carefree and relaxing as possible.

Each morning we start you off with a a complete breakfast, along with a plate of fresh local fruits and pastries.

Each afternoon, we offer fresh home-made pizzas to order and have movie and dinner nights for our guests each Tuesday and Thursday evening at 7.

Jonathan cooks a great dinner $6.50 and we try to show the latest (bootleg) movies that often are just starting in your country.

Join us out for a group dinner at local restaurants with special musical local artists and bands.

We can also help to make your vacation go more smoothly and be more memorable by helping you book any of the tours that we offer (see our page on Tours & Nightlife).

We split our commission with you, usually saving you $10 per person.

As we are at the park entrance, we can set you up with a great local guide that will come get you after breakfast for a park tour-

Use our computer for high speed internet or our free WiFi if you have your own with you. We will also help to keep you clean and dry in this tropical climate, by offering the convenience of laundry service.


RATES

These are our currents rates:

HIGH SEASON RATES
December 16- April 30

-------------------- Daily / Weekly

Bungalow ------------ $125 / $770
(up to 4 guests)

La Casa ------------- $225 / $1,400
(up to 6 guests)

La Villa ------------ $175 / $1,120
(up to 6 guests)

Monkey Room --------- $115 / $700
(up to 5 guests)

Posada Room --------- $100 / $595
(up to 2 guests)


LOW SEASON RATES
May 1-December 15

---------------------Daily / Weekly

Bungalow ------------- $80 / $560
(up to 4 guests)

La Casa ------------- $150 / $1,050
(up to 6 guests)

La Villa ------------ $125 / $875
(up to 6 guests)

Monkey Room ---------- $70 / $490
(up to 5 guests)

Posada Room ---------- $60 / $420
(up to 2 guests)

Note: The 4 night discount does not apply in low season.

For any additional guests we charge $10.00. No charge for children under 5 when no extra bed is required. The Government Tax and Tourism Tax will be 13% over the room rates.


All rates include:

A jungle bungalow perfectly located just a few minutes away from Manuel Antonio National Park, Manuel Antonio Beach, restaurants, beach/surf shops and bars.

Full breakfast each morning.

Access to the pool and jacuzzi.

Use of barbeque area.

Secured, walled property & parking.

Either a queen and full sized bed or a king bed.

Up to four people per bungalow.

Access to the lush, tropical gardens.

Free WiFi and high speed internet and free calls to the US and Canada.

Your reservation will be confirmed by fax or e-mail in 24 hours. In order to guarantee a reservation, we require one night paid as deposit at least 30 days prior to your arrival. We accept cash, Visa and MasterCard. We can use Paypal if you prefer.

Cancellations:

We will make a full refund with at least 72 hour's notice, minus the credit card fee of 6%.




La Posada Private Jungle Bungalows
Manuel Antonio, Quepos, Costa Rica
Tel/fax: (506) 2777-1446 E-mail. info@laposadajungle.com